The Economic and Financial Crimes Commission announced that it has traced N47.2 billion and $487.5 million in cash and properties to former Minister of Petroleum Resources, Mrs. Diezani Alison-Madueke.
Apart from the boxes of gold, silver and diamond jewelry, worth several million foreign currencies discovered at her Abuja residence, the EFCC said a thorough investigation by its operatives unraveled other landed properties scattered not only in Lagos but other parts of the country.
According to the agency, the former petroleum minister may not have declared all her assets as required of public officials.
Earlier, a court ordered a permanent forfeit of the Banana Island property belonging to Mrs Alison-Mmadueke.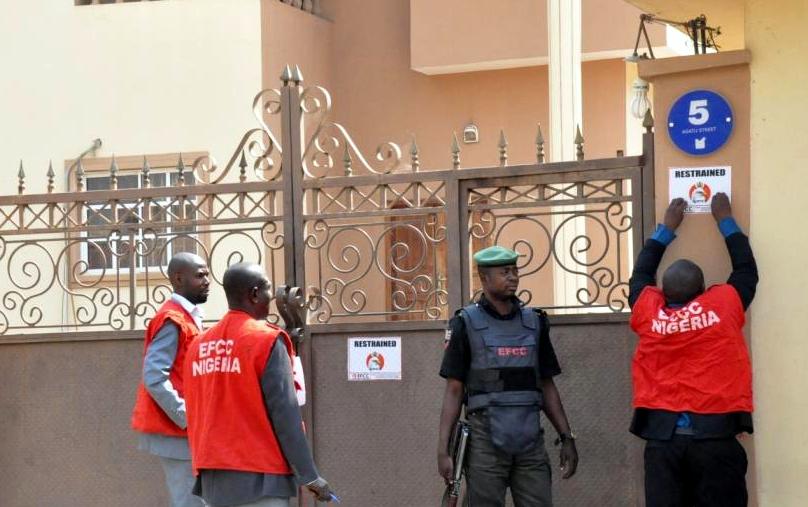 In an article entitled: "Diezani Alison-Madueke: What an appetite," released to the press by two officers in the EFCC, the co-authors, Public Affairs Directorate, Tony Orilade and Aishah Gambari, said described Diezani's acquisition of properties as "illegal and uncommon temerity."
They said she bought a block of six units serviced apartments at Number 135 Awolowo Road, Ikoyi, "just a few hundred metres away from the EFCC zonal operations hub – an apartment with a standby power generating set, sporting facilities, play ground and a water treatment plant."
According to them, the property was bought at the rate of N800m on January 6, 2012.
Other properties listed include 21-mixed housing units of eight four-bedroomed apartments, two penthouse apartments of three bedrooms at No. 7, Thurnburn Street and 5, Raymond Street, Yaba, Lagos.
See Also: All You Need To Know About Diezani's Corruption Scandal 
Below is the complete list of properties belonging to Alison-Madueke as released by the anti-graft agency:
"The Raymond Street property is made up of two en-suite two-bedroomed apartments and one four-bedroomed apartment.

"Yaba, Lagos properties, which dug a deep hole of an eye-popping N1bn were paid for on May 30, 2012. The same day Alison-Madueke splashed N900m on a Port Harcourt estate.

"In Lekki Phase One, an upscale neighbourhood of Lagos, operatives found a twin four-bedroomed duplex. The duplex is located on Plot 33, Block 112, Lekki Peninsula Residential Scheme Phase 1, Lekki, Lagos, with an estimated value of over N200m.

"Also in Lagos, a large expanse of land at Oniru, Victoria Island, Lagos has also been traced to the former Petroleum Resources Minister. The land, which is located in Oniru Chieftaincy Family Private Estate, Lekki peninsular, Lagos and currently being utilised as a dumping site, was bought on February 16, 2012, forN135m.

"Plot 8, Gerard Road, Ikoyi, Lagos, another property traced to Alison-Madueke, is a penthouse on the 11th Floor in the Block B Wing of the building. It was bought for N12m on December 20, 2011.

"On Plot 10, Frederick Chiluba Close, in the serene, upscale Asokoro district of Abuja, lies a tastefully-built and finished duplex. In the compound, there are also a Guest Chalet, Boys' Quarters, an elegant swimming pool, fully-equipped sports gym and a host of other amenities. Investigators have discovered that the property was acquired by the ex-minister in December 2009, at the cost of N400m but it was never declared in any of the asset declaration forms filed by Alison-Madueke.

"Also linked to the former Minister in Abuja is a mini estate at Mabushi, Abuja. The estate located on Plot 1205, Cadastral Zone B06, Mabushi Gardens Estate, houses 13 three-bedroomed terraced houses, each with one bedroom en-suite maid's quarters.  It was purchased on April 2, 2012, at the princely sum of N650m.

"In Aso Drive, Maitama, Abuja, Alison-Madueke reportedly acquired a six-bedroomed en-suite apartment made up of three large living rooms, two-bedroomed guest chalets, two-bedroomed Boys Quarters, two lock-up garages and a car park. It was bought on July 20, 2011, for N80million.
More News: Nnamdi Kanu's Actions Hindering Withdrawal Of Quit Notice – Northern Groups
The statement revealed more properties in Bayelsa State, an apartment – located on Goodluck Jonathan Road, Yenagoa – with two blocks of flats, all en-suite, and with a Maid's Quarters was linked to Diezani. EFCC estimated the apartments with four living rooms, eight bedrooms and gold-plated furniture, to be at a price range $153 million.
Currently, there no news about the whereabouts of Mrs. Diezani Alison-Madueke, who was reportedly receiving treatment for cancer.
But one thing is for sure: the corruption charges tailing her has gone international with series of awaiting trials.